Note: This project has high transaction volume. For performance reasons, a default 5-year time frame has been selected. You may change this in the Report Options above
  1
 5
 0
*Based on URA sales data in the last 12 months. Otherwise, based on latest transaction. May not be representative.
**Based on URA rental data in the last 12 months. Otherwise, based on latest transaction. May not be representative.
Facilities
0 Facilities Available
Caspian is a leasehold (99 yrs from 2008) condominium completed in 2012. It is developed by YISHUN LAND PTE LTD. The development occupies a land area of 22,001 sqm and a Gross Floor Area of 77,012 sqm. It consists of 712 units. According to records, buyers of this development are Singaporean 80.3%, PR 14.3%, Foreigner 5.1%, Company 0.2%.
CASPIAN is located along Lakeside Drive in Jurong West, in District 22. It is accessible through the nearest MRTs including Lakeside EW26 and Boon Lay EW27. The nearest schools are YUAN CHING SECONDARY SCHOOL and RULANG PRIMARY SCHOOL.
Based on transaction data in the last 12 months, sale prices range from S$ 1,227 psf to S$ 1,535 psf at an average of S$ 1,383 psf. Its highest recorded transaction was S$ 1,535 psf in Jul 2023 for a 1,206-sqft unit. Its lowest recorded transaction was S$ 465 psf in Mar 2009 for a 1,485-sqft unit. Its current rental yield is at 4.0%. Other nearby amenities include: 3 Childcare Centre(s): MY FIRST SKOOL, BRIGHT JUNIORS PTE. LTD., MY WORLD PRESCHOOL LTD., and 3 Grocerie(s): NTUC FAIRPRICE CO-OPERATIVE LTD, LOCH GROCER PTE. LTD., NTUC FAIRPRICE CO-OPERATIVE LTD, and 3 Kindergarten(s): Jurong Calvary Kindergarten, Jurong Christian Church Kindergarten, PCF SPARKLETOTS PRESCHOOL @ TAMAN JURONG Blk 352 (KN), and 2 Shopping Mall(s): BOON LAY SHOPPING CENTRE, TAMAN JURONG SHOPPING CENTRE.
Buyers and tenants are attracted to District 22, which is comprised of Lakeside, Jurong, Boon Lay and Tuas. This district is densely populated with many industrial buildings, but it also has residential estates and landscaped parks. Jurong is Singapore's industrial area, where its large working population is housed in a mix of old and new housing estates in Boon Lay, Taman Jurong and Hong Kah areas. Due to its rapid development, Jurong has recently been known as the second "Orchard Road" of Singapore, with four shopping malls within walking distance from Jurong East MRT Station. Jurong is also home to the International Business Park, widely labelled as Singapore's second Central Business District. Some present landmarks here are Science Centre Singapore and IMM Shopping Mall. Boon Lay is home to many factories and some old factories are under plans for redevelopment for transformation to modern high-density factories. Tuas is an area completely dedicated to heavy industries where heavy machineries and equipment is manufactured, as well as the production of chemicals and electronics.
With a land area of 25,500ha, the West Region is the largest of the five regions in Singapore. Jurong East is the regional centre of the region, while Jurong West is the most populous town in the region. A large number of Singapore's heavy industry companies are concentrated in the West Region. These are mainly petrochemical companies, comprising of international players such as BP, ExxonMobil, DuPont, Mitsui Chemicals and Shell. The West Region is also at the forefront of the government's industrial development efforts. The government plans to develop the Jurong Lake District and Jurong Innovation District into the second Central Business District (CBD) area in Singapore. Additionally, the Tuas Mega Port, upon completion in the 2040s, is anticipated to be the world's single largest container port with an annual capacity of 65 million TEUs.
"low maintenance fee, given sizeable swimming pool, tennis court, gym, badminton court, children playground. Building is well maintained. Less than 2min full shelter walk to MRT. Jurong points is just 1 stop away while 2 stops to Jurong East central with multiple malls & Health Institutions. Lakeside Garden is just a stone throw away. good for leisure walk or for resident who like to go for weekend cycling or jogging. weakness is probably the land area, building blocks are near to one another. thus privacy is compromised. for the same reason, children noise from the playground or pool may be unbearable to some residents. "
w*****d@yahoo.com.sg
Owner     |   30 Aug 2021
"Everything is Good except the facing of my unit."
e********g@gmail.com
Owner     |   06 Mar 2019
"Spacious interior as compared with lakefront residences. We don't have huge balcony as a wasted space."
d*************3@gmail.com
Owner     |   23 Feb 2017
"Security Extreme rude ,shout and rushing car to enter with no car behide queuing"
P****** Z****
Google Review     |   08 Jun 2022
"Has anyone stay in the 11 floor and how is the mrt noise I went to see the 11floor block 56..but it heard louder compare to block 54.."
P******* A
Google Review     |   07 Mar 2022
"There's is nothing for #Covid19 control measures like taking temperature and scanning trace together when the contractor enter inside. The security sit inside his cabin and ask me REMOVE MY MASK so that he can hear my voice!!! I think he is in Hari Raya mood! Selamat Hari Raya to him!"
M*********
Google Review     |   10 May 2021
"good place for living in"
J****** W*
Google Review     |   26 Nov 2020
"I love it it has 17 levels and 2 basements! I been here for 11/9/2020 It also have a swimming pool! Oh yeah that in dancing at the pole xD"
J**** L**
Google Review     |   25 Sep 2020
Transport
School
Eat & Shop
Others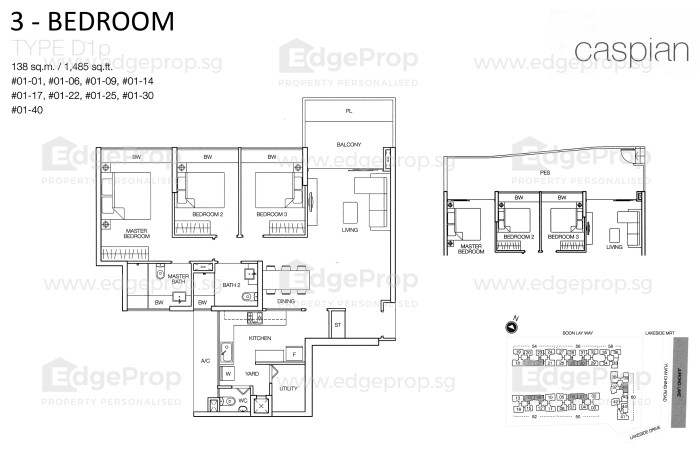 CASPIAN - 50 - 1 - 1
Note: Estimated when over 70% of the unit sizes are known, may differ from actual unit size distribution.
Sales Transaction of CASPIAN (Limited to 10)
ALL SALES TRANSACTION (0)
ALL ABORTED TRANSACTION (0)
0 asking price for sale 
selected
Developer's Selling Prices
Average Rental Yield Analysis
*Based on transactions and rents in the past 6 months.
Historical Quarterly Rental
Price Comparison with Nearby Properties (UP to 10)
(Within 1000 meters)
Note: *Based on URA Sales data in the last 12 months. **Based on URA Rental data in the last 12 months.
Status
Street Name
Location
Land Attributes
Estimated Breakeven
-