Note: This project has high transaction volume. For performance reasons, a default 5-year time frame has been selected. You may change this in the Report Options above
*Based on URA sales data in the last 12 months. Otherwise, based on latest transaction. May not be representative.
**Based on URA rental data in the last 12 months. Otherwise, based on latest transaction. May not be representative.
Facilities
0 Facilities Available
J Gateway is a leasehold (99 yrs from 2012) condominium completed in 2016. It is developed by MCL LAND (GATEWAY) PTE LTD and designed by AGA ARCHITECTS PTE LTD. The development occupies a land area of 13,538 sqm and a Gross Floor Area of 56,858 sqm. It consists of 738 units. According to records, buyers of this development are Singaporean 83.8%, PR 12.2%, Foreigner 3.8%, Company 0.2%.
J GATEWAY is located along Gateway Drive in Jurong East, in District 22. It is accessible through the nearest MRTs including Jurong East EW24, NS1 and Chinese Garden EW25. The nearest schools are ST.HUA PRIVATE SCHOOL and NANYANG LANGUAGE & BUSINESS SCHOOL.
Based on transaction data in the last 12 months, sale prices range from S$ 1,452 psf to S$ 1,991 psf at an average of S$ 1,856 psf. Its highest recorded transaction was S$ 1,991 psf in May 2023 for a 678-sqft unit. Its lowest recorded transaction was S$ 1,239 psf in Jul 2013 for a 958-sqft unit. Its current rental yield is at 4.5%. Other nearby amenities include: 3 Childcare Centre(s): MY FIRST SKOOL, PCF SPARKLETOTS PRESCHOOL @ BUKIT BATOK EAST BLK 208 (CC), MY FIRST SKOOL, and 3 Grocerie(s): ISETAN (SINGAPORE) LIMITED?, NTUC FAIRPRICE CO-OPERATIVE LTD, SONG FISH DEALER PTE LTD, and 3 Kindergarten(s): Al - Mukminin Mosque Kindergarten, Seventh-day Adventist Kindergarten, PCF SPARKLETOTS PRESCHOOL @ BUKIT BATOK EAST Blk 285C (KN), and 3 Shopping Mall(s): Westgate (U/C - TOP : 4Q 2013), JCUBE, IMM BUILDING.
Buyers and tenants are attracted to District 22, which is comprised of Lakeside, Jurong, Boon Lay and Tuas. This district is densely populated with many industrial buildings, but it also has residential estates and landscaped parks. Jurong is Singapore's industrial area, where its large working population is housed in a mix of old and new housing estates in Boon Lay, Taman Jurong and Hong Kah areas. Due to its rapid development, Jurong has recently been known as the second "Orchard Road" of Singapore, with four shopping malls within walking distance from Jurong East MRT Station. Jurong is also home to the International Business Park, widely labelled as Singapore's second Central Business District. Some present landmarks here are Science Centre Singapore and IMM Shopping Mall. Boon Lay is home to many factories and some old factories are under plans for redevelopment for transformation to modern high-density factories. Tuas is an area completely dedicated to heavy industries where heavy machineries and equipment is manufactured, as well as the production of chemicals and electronics.
With a land area of 25,500ha, the West Region is the largest of the five regions in Singapore. Jurong East is the regional centre of the region, while Jurong West is the most populous town in the region. A large number of Singapore's heavy industry companies are concentrated in the West Region. These are mainly petrochemical companies, comprising of international players such as BP, ExxonMobil, DuPont, Mitsui Chemicals and Shell. The West Region is also at the forefront of the government's industrial development efforts. The government plans to develop the Jurong Lake District and Jurong Innovation District into the second Central Business District (CBD) area in Singapore. Additionally, the Tuas Mega Port, upon completion in the 2040s, is anticipated to be the world's single largest container port with an annual capacity of 65 million TEUs.
"It is very convenient as its next to westgate, gem and jurong east mrt. its pretty windy which is a nice surprise. facilities are fairly ok but the gym is small. its a bit oversecure as i cant go up other floors to visit my friend on another level. guess its tradeoff for security. overall a pleasant place to stay and central to town since its a direct train to raffles place in 30min. good for singles and small families"
k********5@singnet.com.sg
Owner     |   23 Feb 2017
"Conveniently near Jurong East MRT Leasing Enquiry: James 98378286 "
J**** T**
Google Review     |   01 Aug 2022
"Great food and the satay is yumm. Big lines though on popular nights so be prepared to wait.."
D**** R*******
Google Review     |   25 Jun 2022
"Absolute convenience with many shopping malls, hopsital and up coming integrated bus interchange/mrt nested in jurong east.Well designed facade with full condo facilities."
E***** T**
Google Review     |   22 May 2022
"This condo has a nice swimming pool. Location is good as it is next to westgate. However, the security guards are extremely unfriendly and territorial. (One in particular). They do not allow ANY deliveries to be made unless there is someone home. NO exceptions whatsoever. My baby has been hospitalized for the last 2 months and is staying another month. I cant be home all the time to receive my tingkat. If I am in the hospital at the time they are delivering, they will not allow the delivery man upstairs. They say no one to open door for him. Basically meaning I cant help you, this is the rule, so you can go without your food. This condo has overly strict rules so I do not advise staying here unless you have a helper at home 24/7 or you are unemployed. Also there is no washing car area. We are moving out in a few months. Edited to add: The lift situation is quite annoying and unpleasant too. There are only two lifts in each block and they service 30+ floors. One of it is a visitor lift. Which means, we are perpetually waiting for the lift to arrive. And they are always servicing one lift as well. During those periods, there is only one functioning lift and you can spend 10 minutes waiting for the lift to arrive because by the time it gets to your floor, its already full. Very frustrating! Last but not least, the pickup area is not well designed. There is only really space for 2 small vehicles to wait there. But, the turning angle is pretty awkward, meaning that all the taxis etc who come to pick you up will be blocking all the cars behind waiting to drive past. Hard to explain but if you are a resident there you will know exactly what I mean."
K******* C***
Google Review     |   30 Apr 2022
"A great condo with good location. The management team is also quite strict in term of screening visitors visit, which I felt it is good for the residents."
J****** S**
Google Review     |   28 Jan 2022
Transport
School
Eat & Shop
Others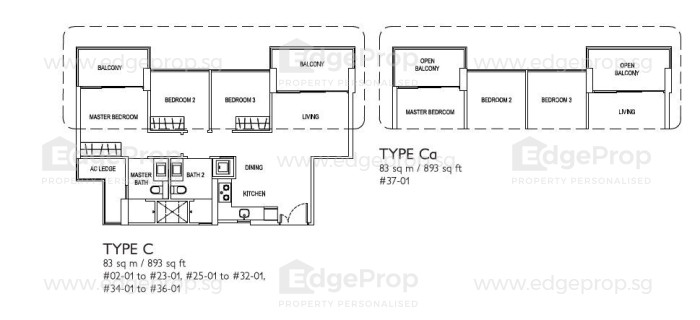 J GATEWAY - 2 - 2 - 1
Note: Estimated when over 70% of the unit sizes are known, may differ from actual unit size distribution.
Sales Transaction of J GATEWAY (Limited to 10)
ALL SALES TRANSACTION (0)
ALL ABORTED TRANSACTION (0)
0 asking price for sale 
selected
Developer's Selling Prices
Average Rental Yield Analysis
*Based on transactions and rents in the past 6 months.
Historical Quarterly Rental
Price Comparison with Nearby Properties (UP to 10)
(Within 1000 meters)
Note: *Based on URA Sales data in the last 12 months. **Based on URA Rental data in the last 12 months.
Status
Street Name
Location
Land Attributes
Estimated Breakeven
-