Note: This project has high transaction volume. For performance reasons, a default 5-year time frame has been selected. You may change this in the Report Options above
  5
 2
 0
*Based on URA sales data in the last 12 months. Otherwise, based on latest transaction. May not be representative.
**Based on URA rental data in the last 12 months. Otherwise, based on latest transaction. May not be representative.
Facilities
0 Facilities Available
North Park Residences is a leasehold (99 years leasehold, 99 yrs, 99 yrs from 2015, n.a.) apartment completed in 2018. It is developed by NORTH GEM DEVELOPMENT PTE LTD/FC NORTH GEM TRUSTEE PTE LTD. The development occupies a land area of 41,085 sqm and a Gross Floor Area of 123,254 sqm. It consists of 920 units. According to records, buyers of this development are Singaporean 87.7%, PR 7.9%, Foreigner 4.4%, Company 0.1%.
NORTH PARK RESIDENCES is located along Yishun Central 1 in Yishun, in District 27. It is accessible through the nearest MRTs including Yishun NS13 and Khatib NS14. The nearest schools are YISHUN TOWN SECONDARY SCHOOL and JIEMIN PRIMARY SCHOOL.
Based on transaction data in the last 12 months, sale prices range from S$ 1,543 psf to S$ 1,901 psf at an average of S$ 1,745 psf. Its highest recorded transaction was S$ 1,901 psf in Aug 2023 for a 700-sqft unit. Its lowest recorded transaction was S$ 1,047 psf in Dec 2015 for a 1,507-sqft unit. Its current rental yield is at 3.9%. Other nearby amenities include: 3 Childcare Centre(s): EAGER BEAVER SCHOOLHOUSE 1 PTE. LTD., THE LITTLE SKOOL-HOUSE INTERNATIONAL PTE LTD, KIDSVILLE CHILD CARE & DEVELOPMENT CENTRE, and 3 Grocerie(s): NTUC FAIRPRICE CO-OPERATIVE LTD, SHENG SIONG SUPERMARKET PTE LTD, COLD STORAGE SINGAPORE (1983) PTE LTD, and 3 Kindergarten(s): Iman Kindergarten (Yishun), PCF SPARKLETOTS PRESCHOOL @ NEE SOON CENTRAL Blk 737 (KN), PCF SPARKLETOTS PRESCHOOL @ NEE SOON CENTRAL Blk 738 (KN), and 2 Shopping Mall(s): NORTHPOINT SHOPPING CENTRE, YISHUN TEN COMPLEX.
Buyers and tenants are attracted to District 27, which encompasses Sembawang and Yishun. Sembawang is named after the Sembawang tree in Sembawang Park, a 15ha tranquil park with a natural beach. Originally the site of the Nee Soon Rubber estate, Sembawang has evolved into a suburban estate with three shopping malls and two MRT stations. It also hosts Sembawang Camp, a major navel base for the Singapore Army. Part of Sembawang is also an industrial area. The town houses a commercial dockyard, known as Sembawang Shipyard, which offers modern marine repair services. Yishun is home to Northpoint City, a sizeable shopping mall with a public library. Other notable places include the Yishun Integrated Transport Hub, which has an air-conditioned bus interchange with a link to Yishun MRT station, Khoo Teck Puat Hospital, which offers a comprehensive range of medical services and specialist care, and Chong Pang, which houses a wet market and various hawker centres.
Covering 13,500ha, the North Region is one of the five regions in Singapore. Located further from the Central Business District (CBD), the North Region offers ample greenery as well as a variety of work and play options. These include integrated developments such as Bukit Canberra, an integrated sport and community hub, and the upcoming Woodlands Health Campus, which will open progressively from the end of 2023. When fully opened, the Woodlands Health Campus will have around 1,400 beds to cater to residents in the North Region. The region will also benefit from enhanced connectivity as strategized in the Master Plan 2019. More cycling paths and park connectors will be constructed, with the WoodsVista Gallery offering pedestrian and cycling pathways connecting Woodlands MRT, Admiralty Park and Woodlands Waterfront Park.
"Exploitative Edmund Tie condo management. Negligence in facilities maintenance, dispute, non ethical dollars and sense mindset"
J***
Owner     |   16 Nov 2022
"Seems like there is a trend of trolls using multiple accounts (Kaiju/Sky) to provide untrue review. Probably agents who are trying to market new projects in the North. Genuine review: Very convenient place to stay especially for those with elderly and children. Many amenities nearby, mall right at your door step, and bus interchange/mrt are within short walking distance with shelter. Various nice layout units to select from. There are many facilities within the condo premise. Very resort feel and nice ambient especially at night. Underpriced at moment considering the steep price of newly launched EC in the North recently."
A**** A**
Google Review     |   27 Jun 2022
"Alot of cost cutting by management. Lifts break down often. Lots of insects, infestations, mutated lizards and dead flies around. Facilities unhygienic. Many decisions that have made the residents life more difficult and inhibited their access to the facilities. Alot of hazards such as turning off lights of the condo grounds beyond 10pm, easy to slip and fall. But condo management dont want to rectify."
S** T**
Google Review     |   17 May 2022
"Unkempt facilities with tons of bugs (disease spreading phorid flies, cockroaches and mosquitoes and beetles). Management does plenty of cost cutting in terms of man power and disallowing electricity plug use, refusing to switch on the lights past 10pm (which is very dangerous), refusing to wash the dirty sofas. Lifts are extremely slow Dirty, stained sofas and tables with no cleaning for months on end despite numerous complaints from residents. Dont even dare to use the facilities cos they are so disgusting and dirty. Pay so much for maintenance yet cannot use & nobody cleans anything & the condo management are all too lazy to respond or do anything."
B**** K****
Google Review     |   26 Apr 2022
"lots of flaws. Firstly, poor upkeep of facilities - sofas and chairs are all mouldy and dirty and management refuses to change them despite multiple complaints from residents. Secondly, very bad upper levels of management who ignores feedbacks and does little to assist residents. Makes decisions against the interests of residents possibly for their own benefit. Alot of cost cutting in terms of man power and disallowing electricity plug use, refusing to switch on the lights past 10pm (which is very dangerous). These cost-cutting makes life very difficult for residents also. Thirdly, very bad oil fumes from the interchange that wafts into the units and submerges the entire level 1 (which are carcinogenic). Fourthly, lots of mosquitoes, cockroaches and bugs. My family and I got bitten quite a fair bit. Fifthly, the slow lift waiting time (6mins) outweighs the convenience awarded from the short walk to the mrt. It is almost impossible to get cabs because the carpark is so hidden that 90% of taxi drivers cannot find the carpark or spend 20-30mins finding the carpark. Many have feedbacked about this extremely poor layout. Lastly, the units are all super close to each other (much like a dormitory layout). You can literally hear your neighbours opening and closing the doors if youre in the living room. The corridor affords little walking space (the width allows only one person to pass through at a time). I would say its 2x smaller than usual HDB corridors. Walls are extremely thin too, if you close your main door the entire houses walls literally tremble for 1-2 seconds."
S***** T**
Google Review     |   05 Mar 2022
"Convenience to reach MRT and bus interchange. The view also very nice"
B**** C***
Google Review     |   25 Aug 2021
Transport
School
Eat & Shop
Others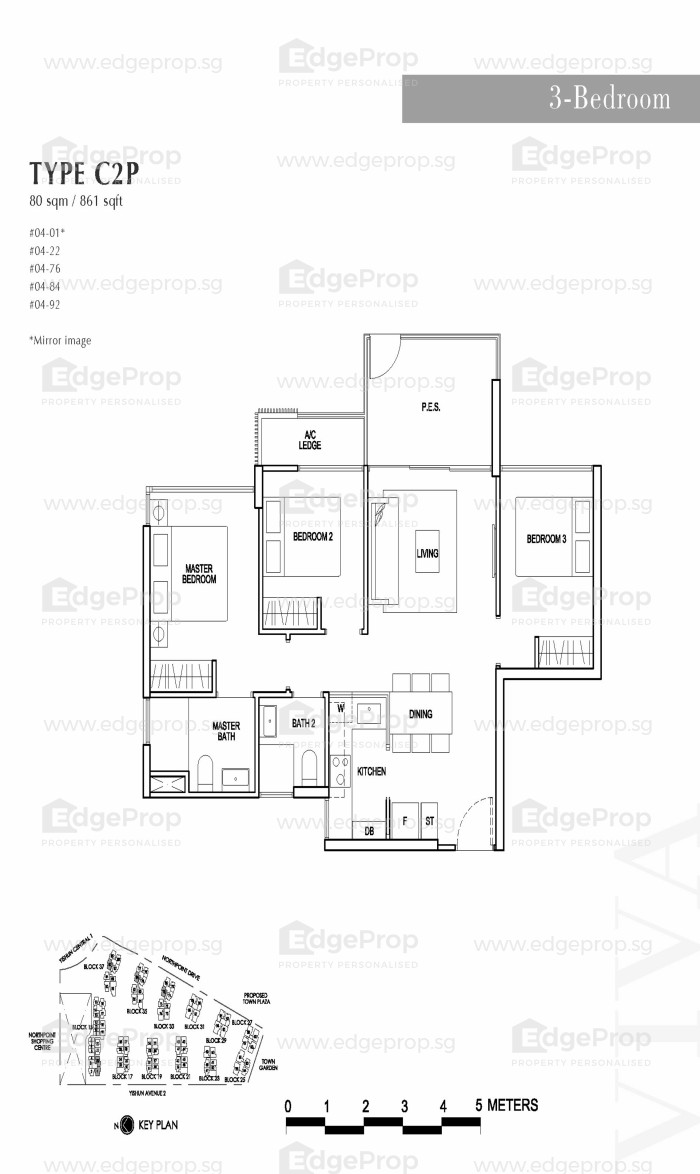 NORTH PARK RESIDENCES - 15 - 4 - 1
Note: Estimated when over 70% of the unit sizes are known, may differ from actual unit size distribution.
Sales Transaction of NORTH PARK RESIDENCES (Limited to 10)
ALL SALES TRANSACTION (0)
ALL ABORTED TRANSACTION (0)
0 asking price for sale 
selected
Developer's Selling Prices
Average Rental Yield Analysis
*Based on transactions and rents in the past 6 months.
Historical Quarterly Rental
Price Comparison with Nearby Properties (UP to 10)
(Within 1000 meters)
Note: *Based on URA Sales data in the last 12 months. **Based on URA Rental data in the last 12 months.
Status
Street Name
Location
Land Attributes
Estimated Breakeven
-
FAQs about NORTH PARK RESIDENCES