2
 2
 0
*Based on URA sales data in the last 12 months. Otherwise, based on latest transaction. May not be representative.
**Based on URA rental data in the last 12 months. Otherwise, based on latest transaction. May not be representative.
Facilities
0 Facilities Available
The Hillier is a leasehold (99 yrs from 2011) apartment completed in 2016. It is developed by TRANSURBAN PROPERTIES PTE LTD. The development occupies a land area of 14,294 sqm and a Gross Floor Area of 40,025 sqm. It consists of 528 units. According to records, buyers of this development are Singaporean 74.3%, PR 13.4%, Foreigner 12.1%, Company 0.1%.
THE HILLIER is located along Hillview Rise in Bukit Batok, in District 23. It is accessible through the nearest MRTs including Hillview DT3 and Cashew DT2. The nearest schools are CHIJ OUR LADY QUEEN OF PEACE and SOA ACADEMY.
Based on transaction data in the last 12 months, sale prices range from S$ 1,378 psf to S$ 1,645 psf at an average of S$ 1,543 psf. Its highest recorded transaction was S$ 1,779 psf in Aug 2012 for a 506-sqft unit. Its lowest recorded transaction was S$ 1,087 psf in Jan 2012 for a 549-sqft unit. Its current rental yield is at 4.1%. Other nearby amenities include: 3 Childcare Centre(s): CHERIE HEARTS KIDZ LODGE PTE. LTD., ST. JOSEPH'S CHURCH CHILDCARE CENTRE, MAPLEBEAR PREP SCHOOL PTE LTD, and 2 Grocerie(s): COLD STORAGE SINGAPORE (1983) PTE LTD, COLD STORAGE SINGAPORE (1983) PTE LTD, and 3 Kindergarten(s): Bukit Panjang Methodist Church Kindergarten, White Lodge Upper Bukit Timah Pte Ltd, St. Joseph's Church Kindergarten, and 1 Shopping Mall: THE RAIL MALL.
Buyers and tenants are attracted to District 23, which covers Choa Chu Kang, Bukit Batok, Hillview and Bukit Panjang. Choa Chu Kang's name was derived from "kangchu", which refers to plantation owners in Teochew. Originally a kampung, the town has evolved into a modern neighbourhood with strong public transport links and two shopping malls. One of which is Lot One Shoppers' Mall, a mall located next to the Choa Chu Kang MRT station offering various retail and dining options. Walking along Choa Chu Kang Park, visitors can also still see old fruit tree plantations. Bukit Batok is home to many natural landmarks, such as Bukit Batok Town Park, Bukit Batok Nature Park, Bukit Batok Hill and Little Guilin, which bears a resemblance of Guilin in China, offering a view of towering granite rock sitting within a lake. The main shopping mall is West Mall, which has a public library, post office and cinema within its compounds.
With a land area of 25,500ha, the West Region is the largest of the five regions in Singapore. Jurong East is the regional centre of the region, while Jurong West is the most populous town in the region. A large number of Singapore's heavy industry companies are concentrated in the West Region. These are mainly petrochemical companies, comprising of international players such as BP, ExxonMobil, DuPont, Mitsui Chemicals and Shell. The West Region is also at the forefront of the government's industrial development efforts. The government plans to develop the Jurong Lake District and Jurong Innovation District into the second Central Business District (CBD) area in Singapore. Additionally, the Tuas Mega Port, upon completion in the 2040s, is anticipated to be the world's single largest container port with an annual capacity of 65 million TEUs.
"High quality built and finishing from local developer Far East OrganisatioN. Right above mall. Convenience is unrivalled. Very near to the downtown mrt line. "
j**n@dnshr.com
Owner     |   06 Jun 2020
"This project is well designed and well-integrated with the commercial developments. Far East is definitely very good at running commercial developments and the Hillier is without a doubt a well-planned, well-executed integrated concept. The positives: 1. Quiet yet convenient location with proximity to the Downtown Line 2. Ample shared facilities and spaces; unit demographics (young couples w/ no children) allow for some underutilisation of shared facilities 3. Build quality within the units is fantastic with good use of building materials (i.e. granite stone and timber strips) 4. Interesting SOHO concept that allows for customisation of interior space 5. Integrated Development close to MRT very convenient The negatives: 1. District 23 is not exactly a prestigious enclave nor should it pretend to be; lots of light industry in the area 2. Some issues with build quality water leakages and flooding along corridors during heavy rainstorms 3. Plenty of competition in the area. Tenants are spoiled for choice. 4. High entry price and late T.O.P. (4 years) means that owners might have bought during market peak, but difficult to offload units and rental yield is depressed due to existing competition around the area"
me@alvinlim.sg
Tenant     |   09 Mar 2020
"Great mixed development, suitable for singles or couples."
l******y@gmail.com
Owner     |   20 Jan 2019
"Great convenience as project sits atop of great eateries and a supermarket. Hip and cool but not overcrowded unlike other mix development. 3 mins walk to the nearest mrt. "
g*********g@hotmail.com
Owner     |   18 Feb 2017
"The most conveniently located condo with amenities just below your feet. "
c*******o@hotmail.com
Owner     |   28 Oct 2016
"A very friendly a helpful security personel."
R**** A***
Google Review     |   12 May 2022
"More than 3 pools, comes with aqua gym as well. Gym is slightly small but there is anytime fitness at your doorstep. An integrated development that brings you to accessibility where pet centre, supermarket, dental clinic are available within 2 mins. Interesting high ceiling , 2 bedrooms with different layout. Good to explore more if you like this project not all units are facing door to door, good privacy."
L**** L** P******
Google Review     |   06 Nov 2021
"Mall beneath this condo. Nice delicious breads n fresh produce frm the supermarket."
J**** L***
Google Review     |   01 Sep 2021
"The view from the apartment is amazing. Food options below at HillV2 and Railmall, and public transport within a stone's throw can zip one to downtown in under 30 min, what's not to love about this place"
T***** L**
Google Review     |   25 Aug 2021
"The condos are not designed well so there's constant ventilation and water leakage issues in the bathroom / shower area. The AC shafting embedded in the walls also leak coolant so expect to pay for coolant top ups every few months. Additionally, they don't allow moving on Saturdays and Sundays, which is terrible for those that need to work during the week and don't have the luxury of taking time off to deal with moving. I'm happy to be finally leaving this condo group."
L*** K****
Google Review     |   11 Jun 2021
Transport
School
Eat & Shop
Others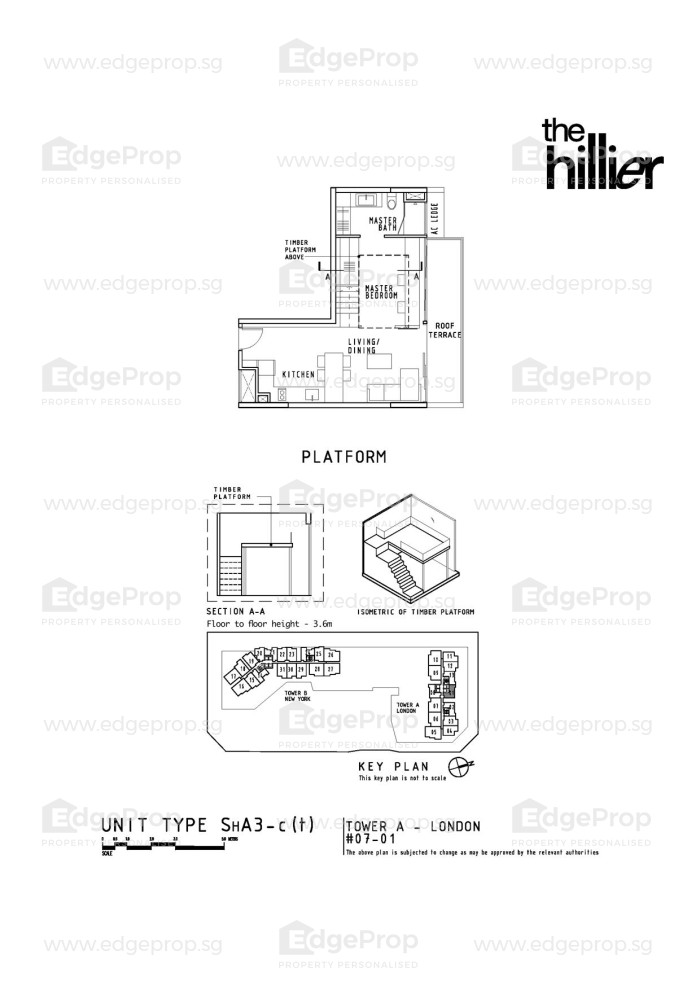 THE HILLIER - 2 - 7 - 1
Note: Estimated when over 70% of the unit sizes are known, may differ from actual unit size distribution.
Sales Transaction of THE HILLIER (Limited to 10)
ALL SALES TRANSACTION (0)
ALL ABORTED TRANSACTION (0)
0 asking price for sale 
selected
Developer's Selling Prices
Average Rental Yield Analysis
*Based on transactions and rents in the past 6 months.
Historical Quarterly Rental
Price Comparison with Nearby Properties (UP to 10)
(Within 1000 meters)
Note: *Based on URA Sales data in the last 12 months. **Based on URA Rental data in the last 12 months.
Status
Street Name
Location
Land Attributes
Estimated Breakeven
-