Note: This project has high transaction volume. For performance reasons, a default 5-year time frame has been selected. You may change this in the Report Options above
  2
 1
 0
*Based on URA sales data in the last 12 months. Otherwise, based on latest transaction. May not be representative.
**Based on URA rental data in the last 12 months. Otherwise, based on latest transaction. May not be representative.
Facilities
0 Facilities Available
The Topiary is a leasehold (99 yrs from 2012) executive condominium completed in 2016. It is developed by PEAK LIVING PTE LTD and designed by DP ARCHITECTS PTE LTD. The development occupies a land area of 22,093 sqm and a Gross Floor Area of 77,324 sqm. It consists of 700 units. According to records, buyers of this development are Singaporean 96.3%, PR 3.7%, Foreigner 0.0%, Company 0.0%.
THE TOPIARY is located along Fernvale Lane in Sengkang, in District 28. It is accessible through the nearest MRTs including Serangoon North CR9 and Tavistock CR10. The nearest schools are FERNVALE PRIMARY SCHOOL and SENGKANG GREEN PRIMARY SCHOOL.
Based on transaction data in the last 12 months, sale prices range from S$ 1,077 psf to S$ 1,347 psf at an average of S$ 1,250 psf. Its highest recorded transaction was S$ 1,382 psf in Aug 2022 for a 904-sqft unit. Its lowest recorded transaction was S$ 600 psf in Feb 2013 for a 2,476-sqft unit. Its current rental yield is at 3.8%. Other nearby amenities include: 3 Childcare Centre(s): INITIUM ACADEMY PTE. LTD., SMARTIE COTTAGE, MORIAH SCHOOLHOUSE LLP, and 3 Grocerie(s): COLD STORAGE SINGAPORE (1983) PTE LTD, NTUC FAIRPRICE CO-OPERATIVE LTD, NTUC FAIRPRICE CO-OPERATIVE LTD, and 3 Kindergarten(s): PCF SPARKLETOTS PRESCHOOL @ SENGKANG SOUTH Blk 443 (KN), PCF SPARKLETOTS PRESCHOOL @ SENGKANG WEST Blk 436D (KN), Brain Buttons Kindergarten, and 2 Shopping Mall(s): GREENWICH V, FERNVALE POINT.
Buyers and tenants are attracted to District 28, which comprises of Seletar and a part of Yio Chu Kang. This district is served by the Yio Chu Kang MRT station of the North-South Line and bus service originating from Yishun Bus Interchange. A notable landmark in this district is the Seletar Aerospace Park. The 320ha development is an industrial park in Singapore to cater to the industrial and business aviation industries.
The North-East Region is the second largest and most densely populated of the five regions in Singapore, with Sengkang being its most populous town. Spanning 13,810ha, the North-East Region is mainly a residential region and housing estate largely comprised of HDB flats. In addition to a myriad of amenities including hospitals, parks, schools and transport options, the region is also home to a few tourist attractions such as Pulau Ubin and Coney Island. Seletar Aerospace Park, which comprises of several aviation manufacturing and research facilities by companies such Rolls-Royce and Singapore Technologies Aerospace, provide employment opportunities to residents both within and beyond the region. Sengkang General Hospital, a 1000-bed hospital, is the largest in the region and is built to further the government's efforts to provide quality and accessible healthcare to all Singaporeans.
"Class meet serenity. "
m******************g@gmail.com
Owner     |   12 Mar 2022
"Ideal for families with kids, quiet locale within close proximity to Seletar Mall & Greenwich V."
c********n@gmail.com
Owner     |   26 Aug 2021
"Beautiful landscaping. "
m************s@gmail.com
Owner     |   15 Oct 2019
"Quite a crowded condo during weekends as many families are around and bring their kids swimming"
G********
Google Review     |   17 Apr 2022
"New executive condominium along Yio Chu Kang Road. Conveniently has a bus stop right outside, and it's near to Greenwich V mall and the Seletar Mall"
G L**
Google Review     |   14 Dec 2021
"Nice sitting area to wait for cab "
A** O**
Google Review     |   23 Mar 2021
"Great location and facilities."
D**** L**
Google Review     |   15 Mar 2021
"Rude security guard shouted and scolded me at the check in area just becos I feedback to them about their check in system is very inconvenient for the visitors. They want the visits to get off the car at the drop off point and walk back to the security check in area to just sign in. This path has no pedestrian path to walk, is all for cars, and even when I walked back, they take super long time to sign in as they are not familiar with the new sign in system which requires them to use an app."
J*** L**
Google Review     |   21 Nov 2020
Transport
School
Eat & Shop
Others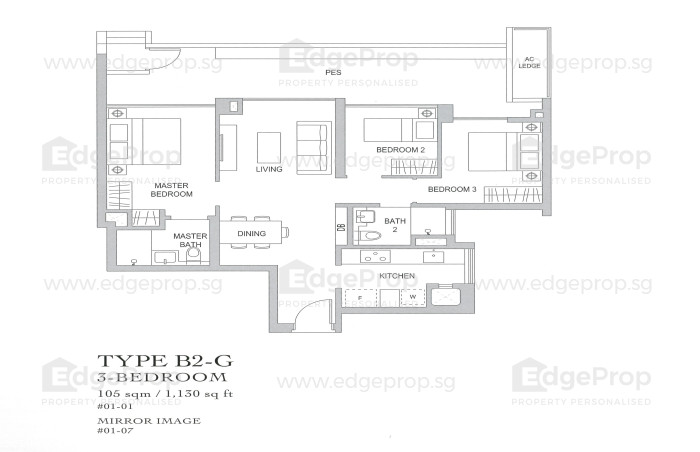 THE TOPIARY - 11 - 1 - 1
Note: Estimated when over 70% of the unit sizes are known, may differ from actual unit size distribution.
Sales Transaction of THE TOPIARY (Limited to 10)
ALL SALES TRANSACTION (0)
ALL ABORTED TRANSACTION (0)
0 asking price for sale 
selected
Developer's Selling Prices
Average Rental Yield Analysis
*Based on transactions and rents in the past 6 months.
Historical Quarterly Rental
Price Comparison with Nearby Properties (UP to 10)
(Within 1000 meters)
Note: *Based on URA Sales data in the last 12 months. **Based on URA Rental data in the last 12 months.
Status
Street Name
Location
Land Attributes
Estimated Breakeven
-