Note: This project has high transaction volume. For performance reasons, a default 5-year time frame has been selected. You may change this in the Report Options above
  0
 2
 0
*Based on URA sales data in the last 12 months. Otherwise, based on latest transaction. May not be representative.
**Based on URA rental data in the last 12 months. Otherwise, based on latest transaction. May not be representative.
Facilities
0 Facilities Available
Watertown is a leasehold (99 yrs from 2011) apartment completed in 2017. It is developed by EMERALD STAR PTE LTD/FC RETAIL TRUSTEE PTE LTD. The development occupies a land area of 29,999 sqm and a Gross Floor Area of 125,997 sqm. It consists of 992 units. According to records, buyers of this development are Singaporean 83.6%, PR 9.7%, Foreigner 6.6%, Company 0.1%.
WATERTOWN is located along Punggol Central in Punggol, in District 19. It is accessible through the nearest MRTs including Punggol NE17, PTC and Sengkang STC, NE16. The nearest schools are PUNGGOL VIEW PRIMARY SCHOOL and PUNGGOL GREEN PRIMARY SCHOOL.
Based on transaction data in the last 12 months, sale prices range from S$ 1,485 psf to S$ 1,885 psf at an average of S$ 1,620 psf. Its highest recorded transaction was S$ 1,885 psf in Jul 2023 for a 1,485-sqft unit. Its lowest recorded transaction was S$ 960 psf in Feb 2012 for a 904-sqft unit. Its current rental yield is at 4.0%. Other nearby amenities include: 3 Childcare Centre(s): MY FIRST SKOOL, GREENLAND CHILDCARE @ PUNGGOL PTE LTD, PCF SPARKLETOTS PRESCHOOL @ PUNGGOL WEST BLK 308B (DS), and 3 Grocerie(s): LI LI CHENG SUPERMARKET (PUNGGOL) PTE. LTD., SHENG SIONG SUPERMARKET PTE LTD, SHENG SIONG SUPERMARKET PTE LTD, and 3 Kindergarten(s): PCF SPARKLETOTS PRESCHOOL @ PUNGGOL WEST Blk 308B (DS), PCF SPARKLETOTS PRESCHOOL @ PUNGGOL WEST Blk 271A (KN), PCF SPARKLETOTS PRESCHOOL @ PUNGGOL COAST Blk 303A (KN).
Buyers and tenants are attracted to District 19, which is comprised of Hougang, Punggol, Sengkang and Serangoon Gardens. These four areas are mostly residential with recreational and commercial amenities. Hougang is the largest HDB town in Singapore based on land area. Private houses can be found in the Lorong Ah Soo and Rosyth areas. Originally comprised of forests and pig-rearing farms, Hougang has evolved into a vibrant residential area with a wide array of amenities. These include a number of shopping malls, Hougang Sports Hall, and a bus interchange with a range of bus services to other parts of Singapore. Punggol is a relatively new residential estate in Singapore's North-East Region. Historically a fishing village resided by Malay settlers, Punggol is now a vibrant mix of residential developments and nature. Residents can leisurely cycle along the 4.2km-long Punggol Waterway or head to Coney Island, a 133ha island popular for jet skiing and camping. Sengkang has experienced rapid development since its early days as a fishing village. It is now a satellite residential town with a well-developed LRT system offering access to different parts of Sengkang. Sengkang also offers a wide array of work and play amenities, with the main shopping mall Compass One being Singapore's first thematic shopping centre based on the theme of learning.
The North-East Region is the second largest and most densely populated of the five regions in Singapore, with Sengkang being its most populous town. Spanning 13,810ha, the North-East Region is mainly a residential region and housing estate largely comprised of HDB flats. In addition to a myriad of amenities including hospitals, parks, schools and transport options, the region is also home to a few tourist attractions such as Pulau Ubin and Coney Island. Seletar Aerospace Park, which comprises of several aviation manufacturing and research facilities by companies such Rolls-Royce and Singapore Technologies Aerospace, provide employment opportunities to residents both within and beyond the region. Sengkang General Hospital, a 1000-bed hospital, is the largest in the region and is built to further the government's efforts to provide quality and accessible healthcare to all Singaporeans.
"Good location, just above waterway point shopping mall and punggol mrt. Very convenient with all facilities within walking distance. By far the best condo in punggol."
c*********g@gmail.com
Owner     |   23 Feb 2017
"It is a Wonderful place with all amenities within the reach. MRT, bus stand, mall, everything is below the residencial complex of watertown. Best is 24 hrs fair price below the condo."
M***** J***
Google Review     |   26 Jul 2022
"Delivery to this place is so bad that It deserves negative 100 stars if I am able to give this place. 1) they charge $1.20 if your delivery take more than 15mins (who the f charges parking fees in a freaking CONDO) 2) what Is ridiculous is their horrible system. Asking you to park at foyer 5 when the block isn't at foyer 5 and you need the resident to let you in TWICE. Once to level 3 and then ANOTHER TIME when you are at level 3. 3)WORST CONDO EVER. AVOID AT ALL COST IF YOU HAVE FAMILY AND FRIENDS OVER, THEY HAVE TO PAY PARKING FEES JUST TO VISIT YOU IN A CONDO! OMG if no one stops them, other condos will follow suit. Stupid management and decision by the company who manage the CONDO. THUMBS DOWN"
W*** L**
Google Review     |   09 Jul 2022
"Lack of signs and have a terrible visitor procedure."
I********
Google Review     |   09 Apr 2022
"nice condo. lots of swimming pool in random place, true to its name."
F******** A*******
Google Review     |   20 Jan 2022
"Love the surrounding in the condo. It has plenty of water features and pools. Nice condo to stay in especially above the Mall and MRT."
J***** P***
Google Review     |   10 Oct 2021
Transport
School
Eat & Shop
Others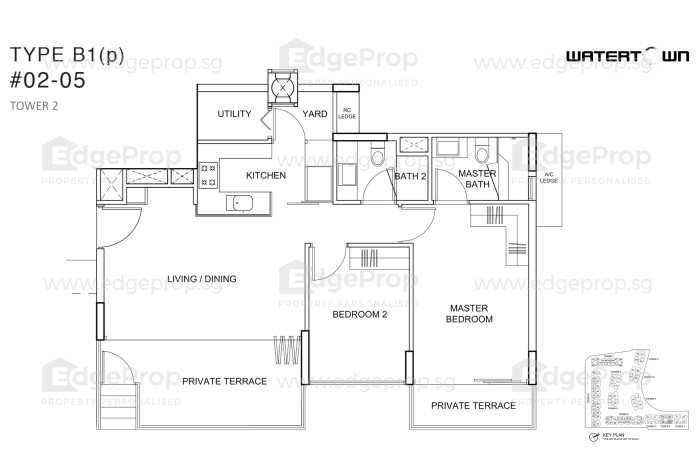 WATERTOWN - 63 - 2 - 5
Note: Estimated when over 70% of the unit sizes are known, may differ from actual unit size distribution.
Sales Transaction of WATERTOWN (Limited to 10)
ALL SALES TRANSACTION (0)
ALL ABORTED TRANSACTION (0)
0 asking price for sale 
selected
Developer's Selling Prices
Average Rental Yield Analysis
*Based on transactions and rents in the past 6 months.
Historical Quarterly Rental
Price Comparison with Nearby Properties (UP to 10)
(Within 1000 meters)
Note: *Based on URA Sales data in the last 12 months. **Based on URA Rental data in the last 12 months.
Status
Street Name
Location
Land Attributes
Estimated Breakeven
-