Images (2)
(2)
Overview
Where Life Finds Its Heart. Within, Amongst and Beyond Home.
A premium development brought to you by UOL Group Limited, Kheng Leong Company and Singapore Land Group Limited.
AMO Residence is strategically located in Singapore's District 20 and pioneering walking and cycling estate. The development is well- connected with an approximately five minutes' walk to Mayflower MRT station on the Thomas- East Coast Line. It is within minutes' drive to Central Expressway (CTE), Seletar Expressway (SLE), and the upcoming North- South Corridor. Being the heart of it all, conveniences such as shopping, entertainment and the city centre are within easy reach.
Details
| | | |
| --- | --- | --- |
| Price: | : | Price upon request |
| | | |
| --- | --- | --- |
| Estimated TOP Date | : | Q4 2026 |
| | | |
| --- | --- | --- |
| Architect | : | P&T Consultants Pte Ltd |
| | | |
| --- | --- | --- |
| Developer | : | UOL Group Limited, Kheng Leong Company and Singapore Land Group Limited |
| | | |
| --- | --- | --- |
| District | : | 20 - Bishan, Ang Mo Kio |
| | | |
| --- | --- | --- |
| Showflat Address | : | Ang Mo Kio Avenue 1 |
| | | |
| --- | --- | --- |
| Site Address | : | 21 and 23 Ang Mo Kio Rise |
Available Units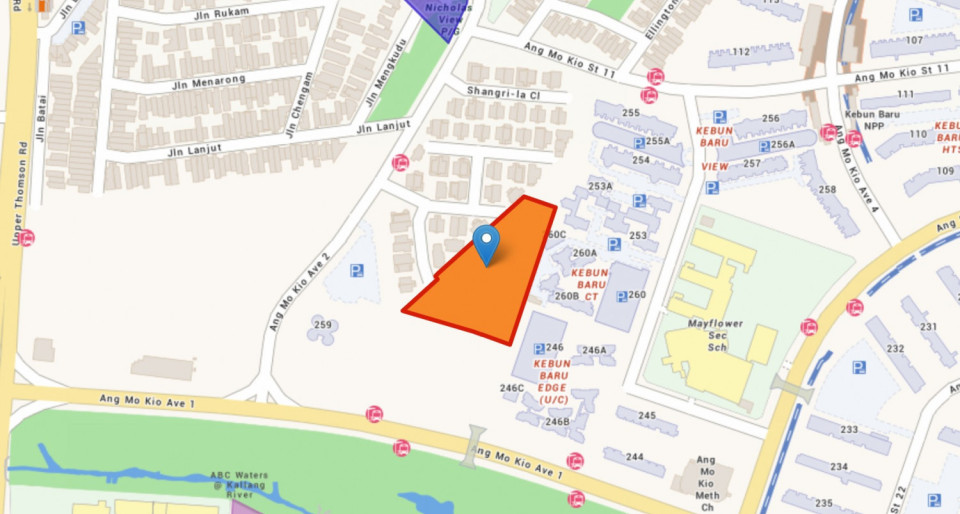 news
UOL to launch new project at Ang Mo Kio Avenue 1 in June
By Atiqah Mokhtar • Mar 04, 2022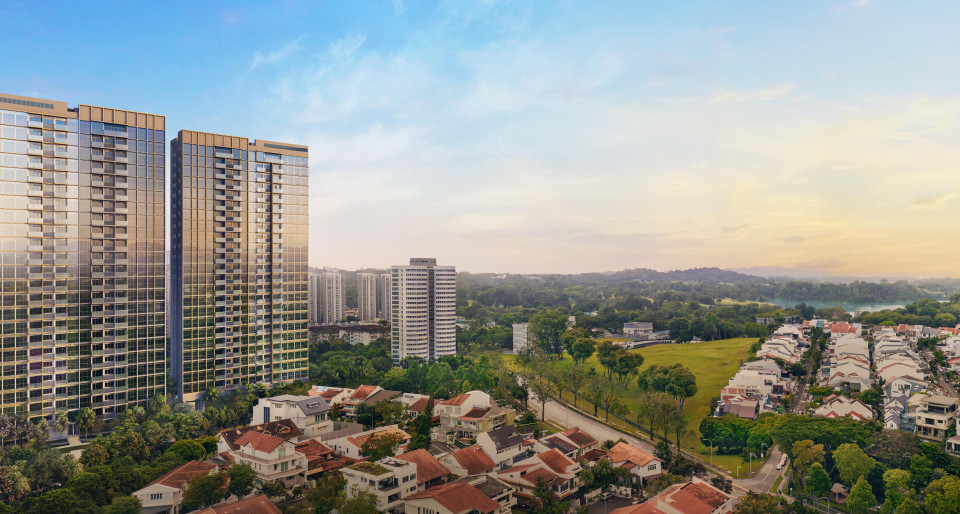 news
AMO Residence to open for preview on July 9; prices to start from $1,890 psf
By Atiqah Mokhtar • Jul 07, 2022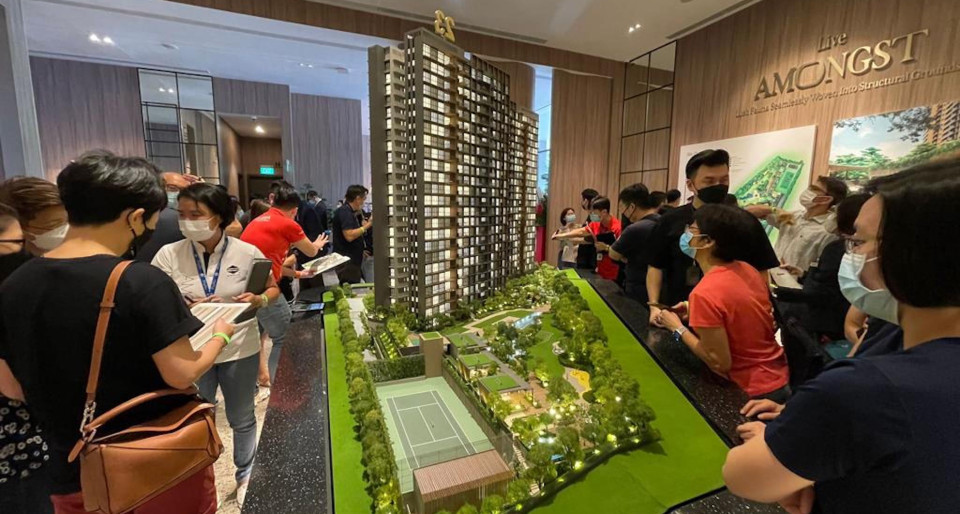 news
AMO Residence preview draws 7,500 over long weekend
By Cecilia Chow • Jul 11, 2022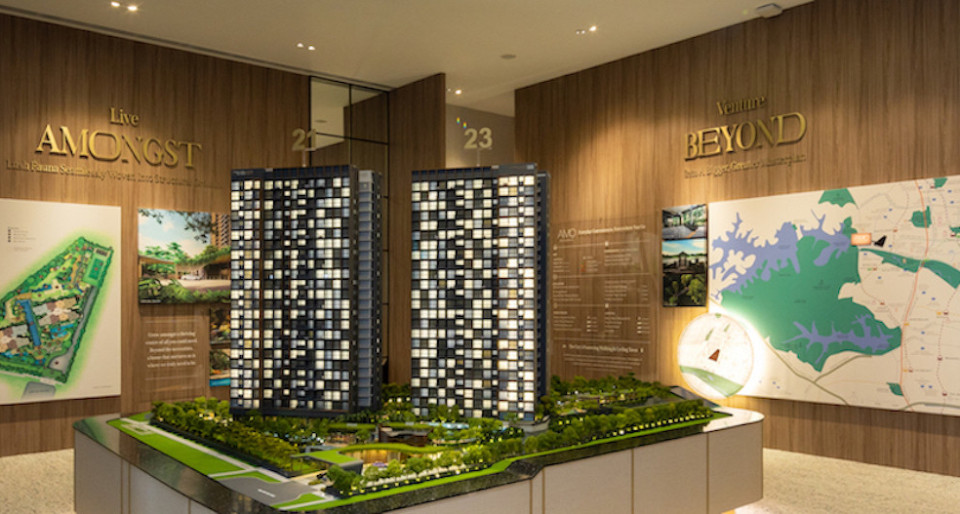 news
AMO Residence to test benchmark price of close to $2,000 psf for suburban condos
By Cecilia Chow • Jul 15, 2022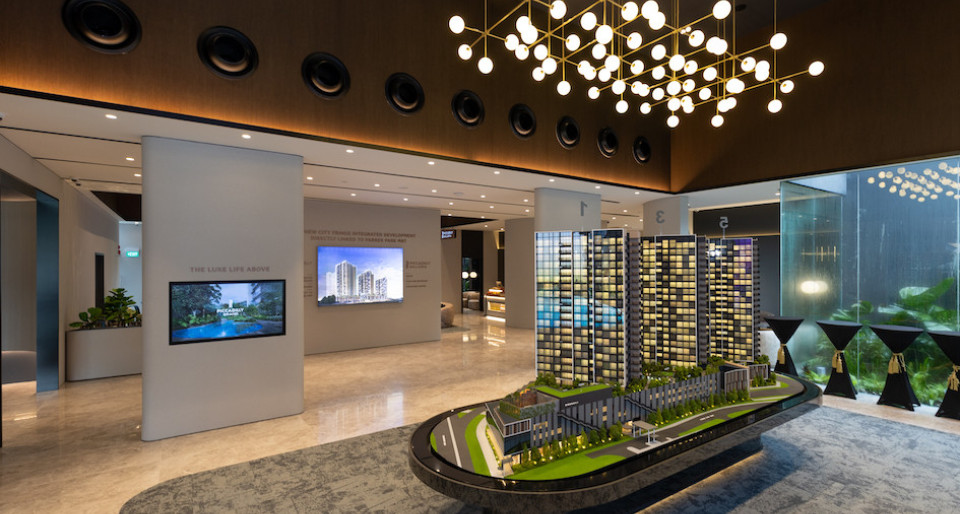 news
Growth in private home prices accelerated by 3.5% in 2Q2022
By EdgeProp Singapore • Jul 22, 2022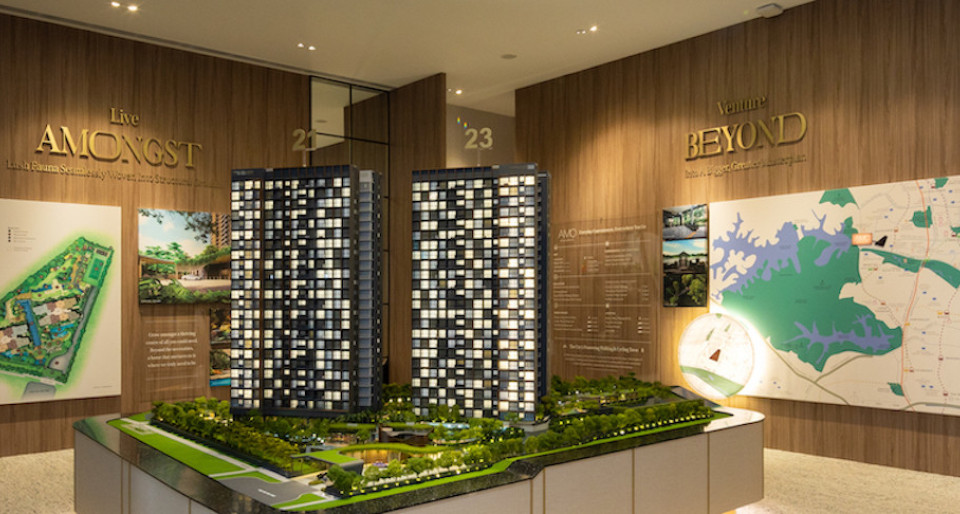 news
[UPDATE] Amo Residence 98% sold on first day of launch
By Cecilia Chow • Jul 23, 2022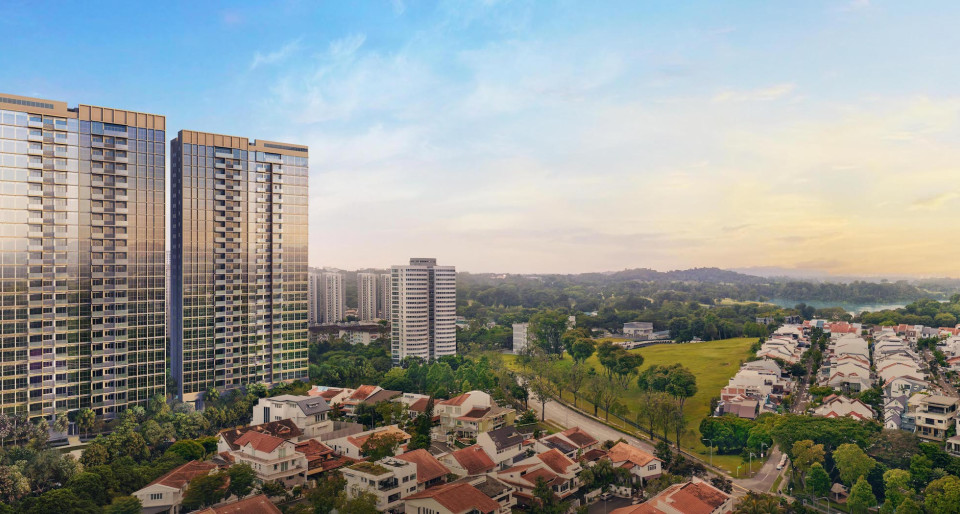 news
UOL's net profit up 306% in 1H2022 on property development, hospitality
By The Edge Singapore • Aug 13, 2022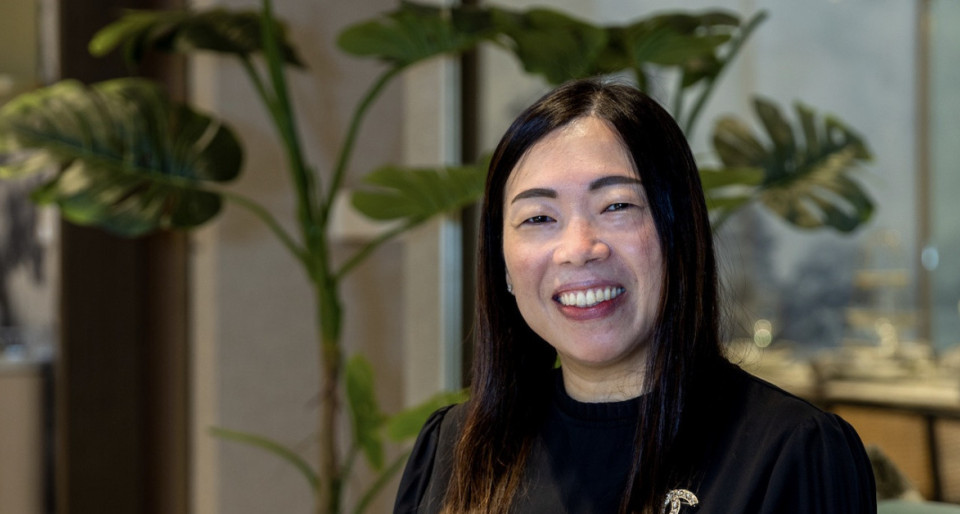 news
UOL chief investment and asset officer Jesline Goh resigns; Neo Soon Hup appointed COO
By EdgeProp Singapore • Aug 13, 2022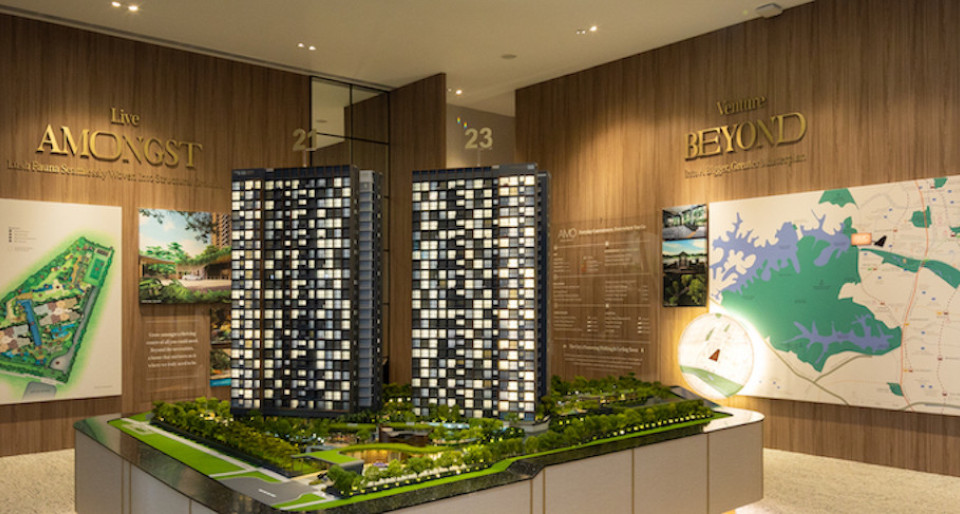 news
July new home sales up 70.9% m-o-m, largely driven by best-seller AMO Residence
By EdgeProp Singapore • Aug 15, 2022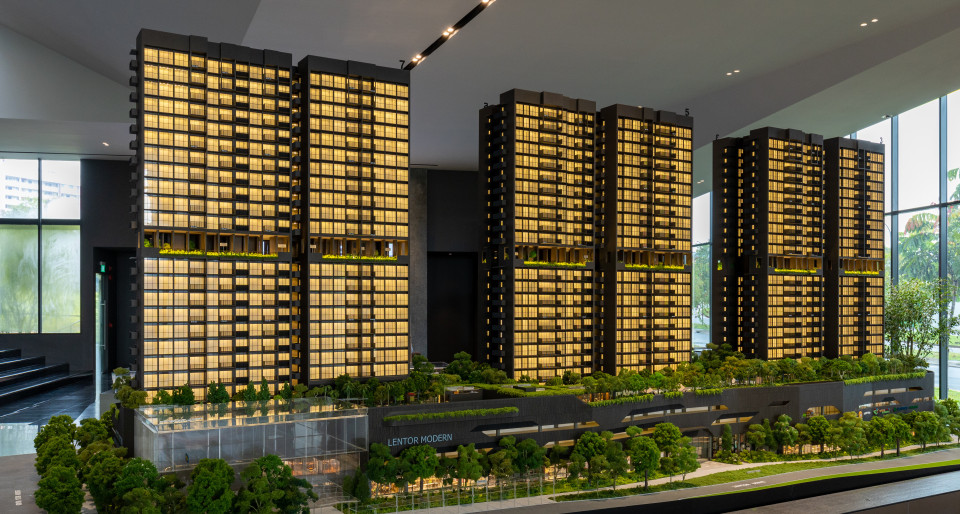 news
Private home prices up 3.8% in 3Q2022, driven by OCR properties
By Atiqah Mokhtar • Oct 28, 2022
Estimated Mortgage
S$ 2,697 /month
Principal

S$ 1,572
Interest

S$ 1,125
Percentage of Downpayment
%
Interest Rate of Mortgage
%
Total Loan Amount
S$ 750,000
Percentage of Downpayment
%
Interest Rate of Mortgage
%
Total Loan Amount
S$ 750,000
Estimated Mortgage
S$ 2,697 /month
Principal

S$ 1,572
Interest

S$ 1,125
AMO Residence
Developed by
UOL Group Limited, Kheng Leong Company and Singapore Land Group Limited
Opp Blk 248 (56269)
92m
1 min
Blk 246 (54061)
201m
2 mins
Bef Shangri-La Walk (56289)
221m
2 mins
Opp Blk 246 (54069)
226m
2 mins
Blk 255 (54169)
388m
4 mins
Opp Blk 255 (54161)
407m
4 mins
St. Nicholas Girls' (56241)
422m
5 mins
Mayflower Sec Sch (54211)
431m
5 mins
Bef Ang Mo Kio Ave 1 (56019)
452m
5 mins
Opp Mayflower Sec Sch (54219)
482m
5 mins
Aft Ang Mo Kio Ave 1 (53099)
486m
5 mins
Contact
Send Message
AMO Residence
Developed by
UOL Group Limited, Kheng Leong Company and Singapore Land Group Limited